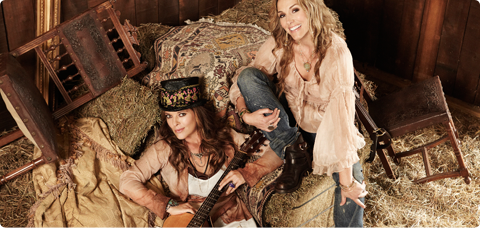 "Meet North 40"
If there is no beginning or end to dreams, then when you actually pursue those dreams with a passion is only a date on the calendar. And setting those dreams and goals aside to tend to whatever life puts in your path doesn't lessen the desire, it only strengthens the resolve to make them come true.

Paige Logan and Heather Looney, who collectively make up the high-energy new duo North 40, know exactly how that applies to them, and very few acts have a stronger sense of who they are and where they're going.

"The music we have created in North 40 is a vivid expression of what we have seen, tasted and touched throughout our lifetime," said Heather. "It has become a light for us that shines hope, encouragement and an element of truth along the way. Living life to the fullest...This is what North 40 is all about."

Their debut single, the anthemic "Hey Girl Hey," shipped to country radio in the summer of 2013, and their new album on Rhymetown Entertainment is due out this fall. Produced by Leigh Reynolds and Paige's Grammy Award-winning husband Mills Logan, the album is an eclectic mix of songs written and co-written by Heather, Paige and some of Nashville's top tunesmiths. All of their songs are written from real life experiences Paige and Heather have melded together and finely tuned for their fans to enjoy, remember, reflect and contemplate stirring up some dust of their own.

Long before the humble beginnings of North 40, Both Heather and Paige were drawn to Nashville in pursuit of their individual dreams of becoming hit singer/songwriters. An instant musical kinship and sisterhood began between the two. Working and writing songs together through the many trials and adventures this life and the challenges this music business offers, the duo continues to empower and sustain each other with excitement and drive for success in spreading their North 40 music to inspire and empower others.



Paige Logan, with her energetic and full of life stage presence plays guitar and provides the strong and sexy mid-range and low harmonies to North 40's indelible sound. She can't even remember her life without music, and recalls that her dad always had his radio and 8-track playing everything from Boz Skaggs to CCR, Stones, Hank, Don Williams and The Eagles. Well trained on piano, Paige is self-taught on both guitar and mandolin.

Growing up with a musical family in a small Arizona town with three sisters, Paige fell into a harmony that only sisterhood can create. She and her sister Panda stirred the musical pot in their home state and were to be the next singing sensations, but where? After closing their eyes and pointing on a map, the closest musical town to their aim was Nashville, TN and they were off with a truck and a prayer arriving in Nashville on Cinco de Mayo in 1993. Less than a year later, Panda moved back to Arizona, and Paige set out on her own in her new hometown. She recalls how exhilarating it was to be starting over and creating a new life. Between a day job and waiting tables at night, she would find herself drawn to the songwriter venues around town and was soon inspired to try her hand at writing songs.



Heather Herren-Looney, a singer and a songwriter from Shreveport, Louisiana with many colorful experiences under her belt, began singing country music with her father when she was 12. An aspiring singer himself, he set his daughter out on this journey that today she calls, "my career!" "We took many fascinating and educational trips to Nashville throughout my young years to see the 'real side' of what I would aspire to."

She had the rich musical history of the Arkansas, Louisiana and Texas area as her playground and performed in every Hayride, Opry, VFW, Roundup, bar, festival, fair, charitable cause and pageant that was available to a young girl with strong will, big hair, tank of gas and a belting high voice while singing the good old country standards. After moving to Texas, California, Utah and Oklahoma while juggling many jobs to support her musical interests, she made Nashville home in 1994 with, "my wonderful, talented and patient husband."


Along their individual journeys, Heather and Paige set aside their dreams for families and careers. Paige became a successful realtor, making the dream of home ownership come true for countless families in the Nashville area. The organic, free spirit of the duo, Paige can often be found tending to her farm, growing vegetables and taking care of her animals.

Heather got married, helped her husband, Alan, start and run his own business and developed her own in-demand home decorating business. After 11 years of marriage she and Alan were blessed with our two beautiful children that she honestly considers, "our greatest accomplishment of our 23 years of marriage." In the music of North 40, one becomes privy to the experiences that shaped the wisdom that is embedded in every fiber of who Heather and Paige are. They recognize the longer they live, the more common the bonds between people are, and we all feel more connected when we share familiar experiences.

"We have all had our bouts of starting and stopping, being scared or joyful, falling off and getting back on, lifting people up and fighting back, standing up, backing down and perhaps even losing it all and having to build it back from scratch, all of which I consider us North 40 champions," said Heather.

"And remember," adds Paige, "Life begins at North 40..."